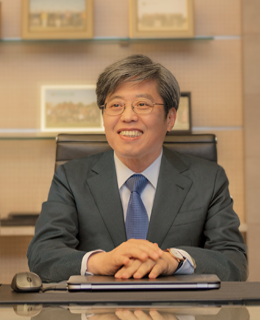 "We will innovate our customers' values to provide them with joy and earn their trust."
Since its establishment in 1948, Dongwha has grown rapidly, creating infinite possibilities under a corporate identity of constant change and innovation. We have expanded our business sectors to products with high added value such as materials, chemicals and building materials, based on our technological prowess accumulated in the wood panel sector, which has served as our growth engine, and thus secured our position as market leader.
Now we are striving to become a global company through expansion in Hong Kong, Malaysia, Vietnam, Australia. We are also building strength in the secondhand car and mass media markets as future growth engines over the next 100 years.
We are establishing a new business paradigm in the used-car market by launching a large transaction complex with a sophisticated system for customers. We will lead others in the market, being dedicated to enhancing customer value through trustworthiness and striving to build a new auto life culture.
In the mass media market, with a focus on The Hankook Ilbo and The Korea Times, we aim to be a true opinion leader in society with differentiated premium news. As an honest voice representing Korea, we will listen to people's critical opinions and courageously follow the right path.
Dongwha's core values are happiness, trust, respect for talent, change and innovation, and integrity.
The group has grown under these values over the past 60 years. We will continue to create a workplace where employees are happy, and a marketplace where customers are satisfied. We will share with our neighbors through active social contribution and work to open a new page in an era where all who do business with us also realize true happiness.
Thank you.